Olympias Side Channel Blower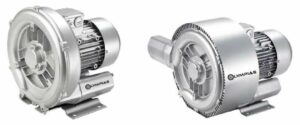 Side Channel Blowers are ideal for moving large volumes of air as a compressor or vacuum pump. When operating conditions fall within a side channel blowers range, they are the most cost effective method of moving air.
Olympias Blowers can operate continuously at their stated performance curve. Among the other major benefits of a side channel blower, is its lack of maintenance requirements. They are oil-less and will not contaminate the application with oil or carbon dust. These blowers have a non pulsating flow and a low level of noise. A side channel blower is also often known as a regenerative blower or an exhauster.
We offer a 2 year warranty (conditions apply).
If you can't find the size you require please contact us for more information. Accessories such as relief valves, gauges, galvanized elbows bends, filters and silencers are also available.
Features;
Low maintenance
In many application they are "fit and forget". No gears, belts or sliding blades to require periodic maintenance.
Value for Money
Offering excellent quality, long life at a very competitive price
Low noise and vibration
Dynamic balancing minimizes vibration and ports with integrated mufflers reduce noise.
Dust-proofed shaft seal
Protects bearing from contaminated air stream and possible foreign particle damage.
High reliability
Directly connected motor shaft-impeller provides reliable, long term performance. No gears, belts, motor brushes or sliding blades to require periodic maintenance.
Oil Free
No oil contamination and reduced maintenance.
Space-efficient
Advanced design results in substantial airflows at moderate pressures in minimum space and weight.
Versatile
Easily throttled and changed from pressure to suction operation. May be mounted in a variety of orientations.
Stable airflow
Centrifugal compressor design delivers smooth, stable airflow with no pulsations.
High-pressure airflow
Produces continuous high-pressure airflow. The Olympias pump is ideally suited to many industrial applications.
Olympias Pumps are ideal for a variety of industries:
Food processing
Water aeration
Pharmaceutical
Industrial Vacuum cleaners
Auto hopper loader systems
Pneumatic Lifting
Fish farming
Dental Vacuums
Printing and Paper
Waste water (sewage) treatment
Cement Manufacture
Olympias Side Channel Blower / Vacuums are available in many different specifications to suit a wide variety of applications:
Showing 1–24 of 27 results